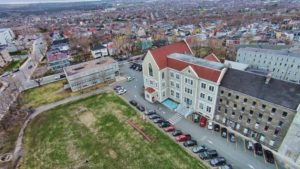 One of the greatest opportunities for service here at St. Bon's is our Computers for Seniors program. Every Friday, seniors from all around St. John's come to our school seeking assistance with the use of technology, such as iPads and laptops. A handful of students, including myself, come to the Aula Maxima during our lunch period to help the seniors figure out whatever technology they are struggling with. However, the Computers for Seniors program has become much more than just a place where people get help with technology and then leave. For me, it has been an opportunity to really get to know the seniors and bond with them, and for the seniors it has been a chance to socialize with young people in a welcoming environment and share their experiences with us.
At Computers for Seniors, each student generally helps the same person every time, which allows us to not only pick up where we left off last time with the technology but also to really get to know our senior. Every time I have gone to Computers for Seniors, I have helped a man named Robert. When I walk into the Aula and sit down with him, he starts by asking specific questions about how to use his tablet, such as how to log in and how to access the Internet. He is especially interested in research so I help teach him to type whatever he is interested in and search it on the web. He will generally search for something that occurred during his life, such as events related to World War II and Newfoundland. Once he succeeds in finding what he is looking for, he begins to explain the topic to me and goes into detail about the events and how they relate to Newfoundland. For example, one session he spent much time describing the American bases that were installed here in Newfoundland during World War II. In return, I ask him questions about what he is explaining and about his life, and it turns into a fascinating conversation that we both thoroughly enjoy. It is these conversations that have really been the defining experience at Computers for Seniors.
From these conversations, I have learned a lot about Robert and his enormous knowledge base. I learned that he has written a book about war history in Newfoundland and he has taught me about the different historical events that happened in Newfoundland, such as Amelia Earhart's solo flight across the Atlantic from Harbour Grace. I, in turn, have shared my experiences and told him that my great-grandfather fought in World War II as a pilot for the US Navy. Through this we formed an instant bond.
One of my most memorable moments at Computers for Seniors came the week after we got back from Christmas break. We had Computers for Seniors that Friday but I couldn't make it because I had to get ready to leave for a basketball tournament in Clarenville. Right before we left, Mr. McGrath called me into his office and gave me a book, Incredible Victory, that Robert had left for me and wanted me to have. It touched me that he had thought of me and given me this book, especially since the book was about World War II, a topic that had been the subject of many of our conversations. This showed me that we really had formed a bond, and helped me to understand the difference that I was making and that all of us have been making in the seniors' lives through our service.
At St. Bon's, one of the biggest goals is to make its students into "men and women for and with others." The "for others" part of this goal is fairly simple to understand and it is easy to just restrict service to doing things "for others." However, through the Computers for Seniors program I have really been able to see the importance of the "with others" part as well. This is essential to service because it allows us to really touch the lives of others and form bonds with them that would otherwise not exist. The Computers for Seniors program would not be the same if our only goal was to just help the seniors deal with their problems with technology and let them leave. From what I have seen and experienced, the greatest difference that has been made has not been through the technological assistance but through the interactions and conversations with the seniors. Every time the hour designated for the program is up, I see the smiles on all of the seniors' faces and know that they have been enriched in a way that is much more profound than just receiving help. Not only has the program benefitted the seniors but I feel like I have personally grown a lot from these experiences and I'm sure the other volunteers have as well. I believe that the Computers for Seniors program has made a huge difference in the lives of many people and that it plays an essential role in the Christian Service element of the mission of St. Bonaventure's College.